Just a quick post to share a

FREEBIE

with my amazing followers!
Every day around the holidays is like Halloween in my classroom.
They come in hyped up and they leave with even more excitement!
I say, if ya can't beat 'em, join 'em!
I made this awesome little countdown for my kiddies that I wanted to share with you.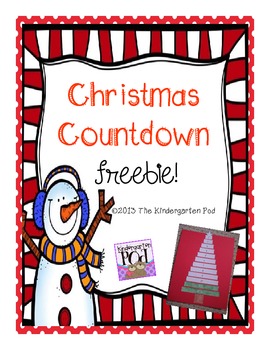 This product comes with two Christmas Countdown activities for you to choose from. The first is building a Christmas Tree over the 12 days before Chirstmas.
Provide each student with one printable. Begin by gluing the tree onto the bottom of red construction paper. On Friday, December 13th, have students cut, glue and color the number 12 rectangle above the tree base. Each day after, students cut, glue and color the next numbered rectangle. On Christmas Day, they can glue and color the star on top of the tree.
The finished product!


The second choice is equally as simple and cute. Provide students with the two printables pictured below.
As you can see, I copied the countdown numbers on red paper but you could use any color you'd like. I kept the title on white paper so the students could color it. I marked where the red paper should be glued onto the white paper.
Follow the basic premise above by cutting one rectangle number off each day leading up to Christmas. Begin on Friday, December 13, 2013. Here is the finished product.
You can download this freebie by clicking on the cover or any of the pictures above. I hope you can use this in your classroom! Don't forget to follow my blog (over there on the right) if you like getting free resources! Thanks for stopping by!